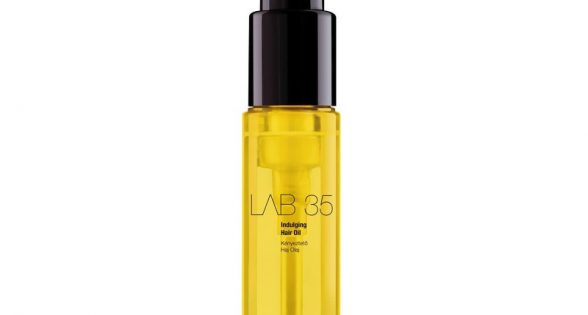 No more bad end(ing)s for your hair. LAB 35 – Hair oil from Kallos
Kallos is a Hungarian brand that gained popularity among many European countries. Kallos cosmetics have great opinion among satisfied consumers.
Nonetheless, we were mostly interested in special tasks oil, i.e. regenerative and protective treatment for hair ends.
Manufacturer ensures that oil will penetrate hair structure. Product has form of thick, oil serum with clear, yellow colour. Moreover, you will be nicely surprised by presence of natural oils. There are seven of them:
– Argan oil – absolute genius in hair care. Regenerates and helps preserve optimal level of hydration and most of all protects hair against unfavourable atmospheric factors.
– Avocado oil – contains seven vitamins responsible for beauty, condition and health of hair. It strengthens protective barrier of hair.
– Coconut oil – is a thick oil, in its natural form it looks like runny butter. Coconut oil protects hair and delivers complex minerals essential for preservation of elasticity to inner hair structures.
– Sunflower oil – rich in high concentration of fatty acids omega-6. It is able to penetrate even the most damaged hair due to its large particles. This oil regenerates hair from the inside out, protects very damaged hair and these in need of increased protection.
– Linseed oil – is rich in vitamin E, i.e. vitamins responsible for youth and elasticity of hair. It protects hair and does not allow the colour to fade.
– Olive oil – moisturises and provides gloss, while controlling frizz and preventing brittleness.
– Macadamia oil – perfect and very quick drying oil, that strengthens hair from the inside out. This oil consists of palmitoleic acid from omega-7 group. It is very rare acid, identical as human sebum produced by skin. For this reason it moisturises hair and regulates sebum secretion of oily scalp.
Oil – as for the product with local use (only on hair ends) – is truly efficient and thick, what contributes to easy application on hair ends. 50 ml/1.7 oz will last for a really long time. The power of oils locked in the product makes it extremely good and worthwhile cosmetic. Regular use will provide ends with strength and gloss as well as make them resistant to any damage.