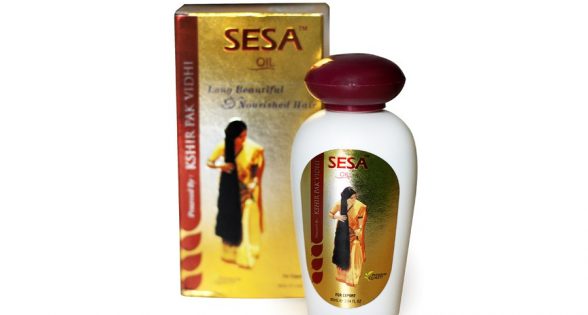 The power of hair oils – SESA OIL
Brittle, weak, falling out hair, premature grey hair or dandruff? This is not a problem, if only we have at hand proven herbs used in the Indian natural medicine. SESA OIL is a hair oil, which recipe derives from Ayurveda.
What is the secret to its effectiveness? What impacts its popularity?
The popularity of SESA hair oil may come as a surprise, especially taking into consideration its smell. This oil is one of more intense oils – not only because of the aroma, but mostly due to its properties. The fact that it is loved by women from all around the World means only one thing. SESA OIL is truly effective product for hair care. What should you know about it?
Use: Hair oil SESA does not have determined group of recipients. It can be used for all hair types that require strengthening. However, this oil stands out with its ability to deal with even the most problematic issues. It can come handy for hair loss, baldness, dandruff or even scalp problems. SESA OIL is certainly valued for contained in it ingredients for hair growth enhancement.
Active substances: SESA OIL is a source of almost several dozens of vegetable oils, herbs, protein and perfectly composed substances. The most important of them, which presence impacts properties of the product, are among many vegetable hair oils:
– bhringraj oil (mix of herbal oils),
– amla oil,
– wheat germ oil,
– nilibhrungandi oil,
– sesame oil,
– coconut oil.
Action: These vegetable oils are responsible for SESA OIL properties being so effective. Its action is confirmed by women from all around the World. What is more, among bloggers this oil is the number one for hair growth. Vegetable oils in the products composition are known to enhance hair growth and prevent hair loss. What else gives regular use of SESA on hair?
As it befits for the oil of this type, SESA OIL strengthens and thickens hair as well as provides them with volume. Not only there is more of them, but they become more expressive. Herbal and oil mix from the East can help resolve problem of dandruff, premature grey hair and unfavourable processes on the scalp.
SESA hair oil is a complex product. It not only enhances hair growth, but also eliminates most difficult issues. Oil ensures nourishment, regeneration, extracts gloss and makes hair colour more expressive, moisturises, smoothers, softens and improves general appearance. No wonder that SESA OIL is a favourite cosmetic of so many women, despite its unpleasant smell.