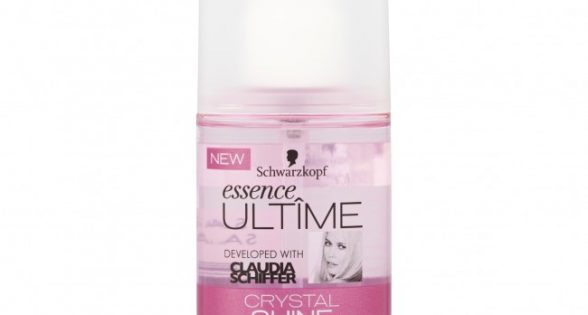 Shine drop for you hair. Schwarzkopf Essence Ultime Crystal Shine.
No hair look good when they lack gloss. In fact it is gloss that is the testimony of well taken care of hair. Even healthy, without split ends and well rooted in the hair bulbs hair can be matte. Conditioning oil Schwarzkopf Essence Ultime Crystal Shine will make every hair regain natural and beautiful gloss.
Crystal Shine is a twin oil of Diamond Color from the same line. It is dedicated for all hair types, though it is recommended mostly for normal and matte hair. This a bit different than with other version of the product, which is dedicated for hair after colourisation treatment. What can we say about this product?
Schwarzkopf Essence Ultime Crystal Shine
Conditioning oil from Essence Ultime line is a small, but complex tool for improvement of hair appearance. Its properties are confirmed by many women, who suffer from matte hair. So, what is the action of the product? Most of all, Essence Ultime Crystal Shine provides gloss, moisturises, softens and smoothers hair. The effect you can expect after use of this cosmetic is an illuminating shine.
What is responsible for such action? Essence Ultime Crystal Shine consists of Ultime-4 complex. It is an innovative combination of ingredients developed by Schwarzkopf. Therefore, in this product Ultime-4 combines panthenol, protein, keratin and pearl essence. Formula with liquid crystals smoothers the hair on their surface, which in itself already ensures gloss. What is more, in the composition of this cosmetic are at least few light silicones.
Sadly, conditioning oil Schwarzkopf Essence Ultime is an oil only by name. Its formula is based on substances, which were enriched with apricot kernel oil. The consistency of the product is also of oil type, that after squeezing it on hand is more thick than, e.g. serum. In spite of it, product administers well on hair, does not cause weighting down, oily hair or clumps.
The method of application is simple mainly thanks to the pump, that makes dosage of the cosmetic much better. Essence Ultime Crystal Shine Oil can be used in three different ways:
– before hair wash to tighten cuticles,
– after hair wash for protection,
– on dry hair for stylisation purposes.