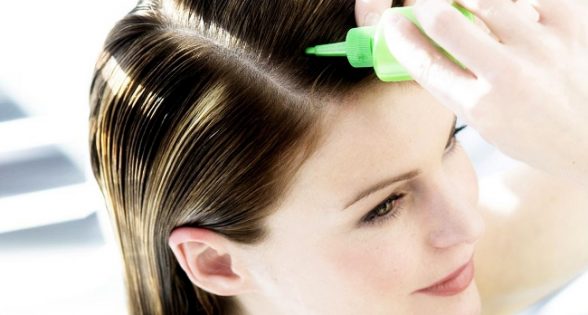 Darkening hair oils.
Women, who desire to change something about their looks, often decide to visit a hair salon and have their hair dyed. We believe that hair dyes are based on safer ingredients which don't damage hair. Sadly, it is still just a myth. Dreams about safe colourisation are… very dangerous and delusive. Ammonia and numerous other chemicals are merciless towards our hair. At first, we enjoy shiny and bouncy strands and intense beautiful colour. After some time, hair loses its shine, condition and health.
If you want to protect your hair form devastation but be able to make some changes (is there a woman who doesn't like changes in her appearance?), you should reach out for natural oils and use them for regular hair oiling. There is a group if oils which darken hair in a natural way. Instead of destroying, they take care of its condition because they have an extraordinary ability to repair and even stimulate hair growth.
Which oils naturally darken hair?
1. Castor oil – it is the best darkening and hair growth enhancing oil. It is dense and very efficient. If you oil your hair with castor oil regularly, it will make it two or three shades darker. What is most important, you don't have to wait long for the effects.
2. Walnut oil – extracted from the fruits of Juglans Nigra plant. It has a beautiful fragrance that lingers on hair for a long time. The fruits of Juglandales have an amazing ability to darken strands. It is the source of linoleic acid. It slows down ageing. Walnut oil is black and offers darkening properties.
3. Rosemary oil – known for ages, used in body and hair care by ancient Egyptians. Use the oil in hair oil treatment regularly and it may noticeably darken the colour of your hair. The effects won't be as spectacular as in case of walnut oil but rosemary oil allows you to change and even out the colour. Therefore, if you have light reflections after summer and you don't like them – go for rosemary oil.
4. Amla – extracted from the fruits of Indian plant (amla) called Indian gooseberry. Amla extract is usually blended with a different oil, usually coconut oil. Thanks to amla, Indian women enjoy healthy, shiny and long hair as well as beautiful intense dark colour of their strands which doesn't fade away.
5. Brahmi – a herb that is very similar to amla. It is extracted from a plant found in India. Brahmi is mixed with a different natural oil. It offers strong darkening qualities. Regular application of brahmi can change colour of blonde hair, therefore both amla and brahmi aren't recommended for fair-haired women.