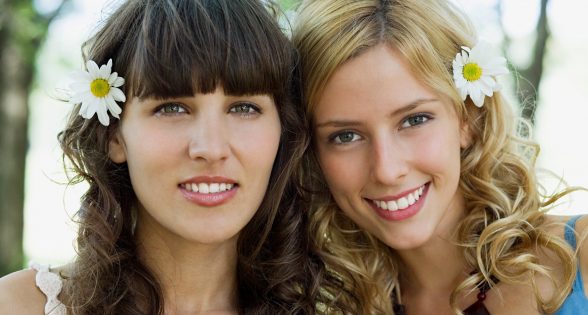 Can too frequent hair oiling do harm?
Surprisingly, frequent hair oil treatment may bring miserable results. Even this simple hair care treatment is going to weaken the condition of your strands and irritate the scalp. Unless you do it following the rules of hair maniacs, use suitable products and take care of your hair properly on a daily basis. If you want to enjoy beautiful hair as long as possible, perform hair oiling as rarely as possible.
More does not necessarily mean better.
This rule works when it comes to hair oiling. Yes, you are going to notice effects: smooth, shiny and manageable hair, no static, brushing and blow-drying will be the simplest things. You will see such results after a few applications. On the other hand, if you start to perform hair oil treatment before every hair washing, your hair condition will get weaker whereas your scalp – greasy. Your hair will get dry; styling will be troublesome; hair ends may get split. Moreover, irritation may occur on the scalp.
What are the results of frequent hair oiling?
It depends on your hair type and oils that you are using. Too frequent hair oiling may lead to sticky, greasy and unaesthetic strands. Your strands may as well get frizzy and static, and your hair ends – damaged. How is it possible that too frequent hair oiling has such a negative influence on hair? Oils leave a protective layer on the hair surface. It protects from UV radiation, environmental pollution, some substances included in hair products and other damaging factors. However, if you apply the oil too often, this layer becomes too thick. As a consequence, nutritional ingredients included in conditioners cannot be absorbed in your hair. Even washing it with strong purifying shampoos brings poor effects. Bear in mind that hair oiling nourishes and protects but it doesn't moisturise. That is why, adding products with emollients and humectants to hair care is so important.
How to properly do hair oiling?
Hair oiling is recommended for everyone but it brings the best effects in case of dry, weak, brittle and damaged strands. Do you know that there are oils which soothe irritation and treat scalp diseases? Before the treatment, wash off silicones, paraffin and other substances; use SLS shampoo. Such a product will remove excessive sebum and dead skin cells from your scalp.
Picking a suitable oil is very important. At first, test the ones that you have in your kitchen. Natural sunflower oil, rapeseed oil, grape seed oil or olive oil are going to be really effective. You may also try out other cosmetics: coconut oil, sesame oil, linseed oil, castor oil, argan oil, corn oil, almond oil or jojoba oil. Keep in mind that oils are divided into: saturated, monounsaturated and polyunsaturated. Each of them suits different hair type. Saturated oils are ideal for low porosity hair, monounsaturated oils – for medium porosity whereas polyunsaturated oils – for high porosity hair.
Hair oiling can be performed either before or after washing. Both methods are going to bring spectacular effects. You may as well use a hair mist or conditioner before oiling to provide your hair with extra nourishment. How much oil should you use during hair oil treatment? It depends on how damaged your hair and scalp are. If you want to have healthy and well-maintained hair, wash the oil down after several hours. Leaving it overnight is an optimal solution.