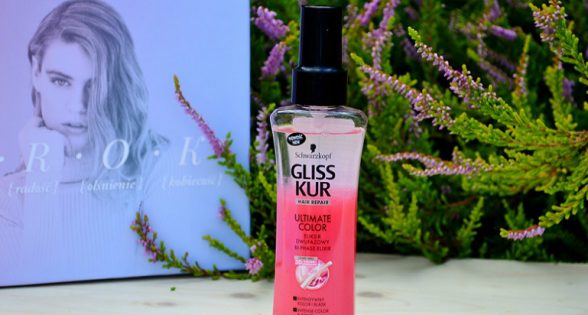 Pink power – Bi-Phased Elixir Gliss Kur Ultimate Color
The power of effectiveness lies in the proper formula. Mostly these bi-phased formulas are the best, because they solve problem two ways and from two different sides. Is this the way Schwarzkopf Gliss Kur Hair Repair Ultimate Color Bi-Phase Elixir work?
Bi-Phase Elixir Gliss Kur Hair Repair is a product created for dyed hair. It will provide them with vivid colour and stunning gloss, and its properties are based on bi-phased formula. Let's just take a look at the composition, method of application and properties of this cosmetic.
What will we find in the composition of Bi-Phased Elixir Gliss Kur Ultimate Color?
Despite the fact that Bi-Phase Elixir has oily formula, it would be a mistake to call it hair oil. The only oil in the composition of this product is apricot kernel oil in trace amounts. However, addition of this oil has its justification. After all, this oil is one of the richest in essential fatty acids. Therefore, its action is deeply moisturising and nourishing. What else?
At first sight, composition of Gliss Kur Ultimate Color Bi-Phase Elixir is nothing special. There can be found two preservatives, that could be avoided and three potentially clogging substances. Luckily, they are the minority next to keratin, provitamin B5, apricot kernel oil, UV filter and other substances with moisturising, tonic and nourishing properties.
How does Gliss Kur Ultimate Bi-Phase Elixir work?
There can be said plenty good things about this product, in spite of not containing such large amounts of natural oils as other cosmetics. Technology 3D-Color-Luminance is responsible for hair care of dyed hair. Thanks to it colour is long lasting, vivid and glossy. The hair does not become matte, do not dry out and do not fade so quickly. Gliss Kur Ultimate Color Bi-Phase Elixir improves appearance of dyed hair, protects them against fade of colour and strengthen them to eliminate effects of harmful chemical treatments.
Gliss Kur Bi-Phase Elixir has only 100 ml/3.4 oz of volume, and in spite of it is very efficient. You do not need much of it to provide hair with protection and strengthening. Spray form makes application easier and atomiser administers minimal required amount for hair. Gliss Kur Hair Repair Bi-Phase Elixir has sweet and quite pleasing scent and most of all is not irritating.