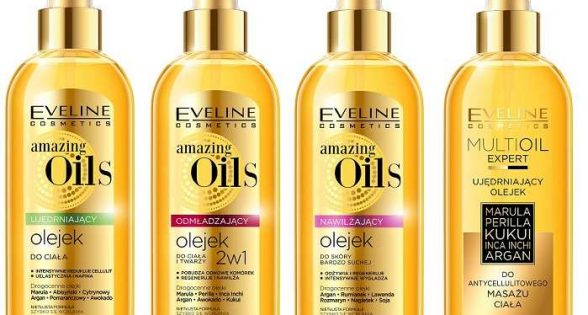 Dry oil 3 in 1 – Eveline Amazing Oils for body, face and hair
Can there be one oil for skin and hair and be effective on both body parts? Regenerative dry oil 3 in 1 Amazing Oils Eveline Cosmetics is a combination of ingredients that have complex action. This cosmetic proves it possible.
What has to offer to the hair, oil that can be used also on body and face? Different ingredients contain cosmetics dedicated for hair and yet another have those for skin. Eveline Amazing Oils proves that you can create dry oil 3 in 1 with such ingredients combination that will work in every case.
Dry Oil 3 in 1 Eveline Amazing Oils – COMPOSITION
The most important in this cosmetic is content of vitamin E and vegetable oils with high EFA concentration. The secret to effectiveness of Amazing Oils is unique Oil Sensation™ formula. Two key oils, that concentration is the highest in the cosmetic are argan and macadamia oil. Both oils are great in hair care.
Argan oil in complex way nourishes and restores health, but also prevents brittleness and provides elasticity. Macadamia oil provides deep moisture and nourishment, regulates sebum secretion and rejuvenates hair.
Eveline Amazing Oils Dry Oil 3 in 1 – ACTION
Due to content of two hair oils, vitamin E and additional ingredients, Eveline Amazing Oils Dry Oil 3 in 1 works perfectly on hair. Its regular use strengthens hair structure, regenerates and restores gloss. Just as it rejuvenates skin, it also improves condition and general appearance of hair.
It is worth mentioning that the use of Eveline Amazing Oils is truly simple. Manufacturer has thought about the method of application that can limit time required for application to minimum. Dry oil 3 in 1 from Eveline does not have pump or pipette, but is applied on hair with practical atomiser. Spray formula evenly covers hair and most of all does not mess hands.
What is Dry Oil 3 in 1 Eveline Cosmetics Amazing Oils like?
The greatest advantage of this product is efficiency, thanks to light formula and method of application. To be true, if used on all body parts, it can run out much faster. Dry oil for hair Eveline Amazing Oils absorbs really quickly and does not leave greasy layer. On top of that, dry oil does not weight hair down or speed up oily scalp.