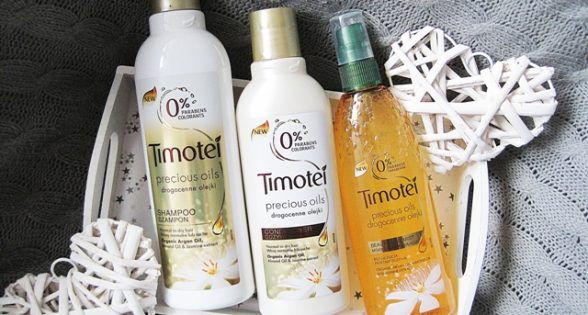 Beautifying hair mist Timotei Precious Oils
What have to offer natural oils? Beautiful hair without any effort and immediate protection against damages. It is worth, then, to introduce your hair care to cosmetics with oils. Perhaps Timotei Precious Oils turn out to be your number one? What should you know about this product?
Timotei is a brand, which we associate mostly with herbal and very natural products. How does the reality look like? It is easy to check it on the example of specific product. Today, we discuss beautifying mist Precious Oils. Has Timotei this time also presented the power of natural ingredients?
Timotei Precious Oils – beautifying hair mist
Firstly, we will focus on the composition of Timotei Precious Oils. What can we say about its formula? Several ingredients and among them jasmine extract, argan oil, sweet almond oil, sunflower oil, castor oil and corn oil. Sounds amazing, especially that the percentage amount of natural oils is quite large.
However, beautifying mist Timotei Precious Oils would be much better if it wouldn't be based on aqua, glycerine and alcohol. Sadly, next to so many promising vegetable oils and extracts can be found also preservatives and several clogging substances. We have to mention that Timotei Precious Oils is a beautifying mist with content of UV filter. It is suitable for protection of hair against harmful impact of radiation.
Properties of the product are not focused on hair protection. Timotei Precious Oils is a hair mist that is expected to make stylisation easier and discipline wild streaks. Regular use of the cosmetic provides hair with smoother and softness. Furthermore, Timotei Precious Oils can be used also on occasion, when there is need for it, e.g. before going to the beach in order to protect delicate hair against sun radiation.
We have to dedicate few words on the subject of formula. Timotei Precious Oils has subtle scent, very light consistency and quite convenient packaging. Precious Oils does not weight hair down, but in great way moisturises and protects against frizz. Packaging in spite of being made of plastic, is very convenient and well executed. Atomiser makes application of product on hair very easy, so its use causes no greater problems.